Forum
Viewing Profile - Joel1960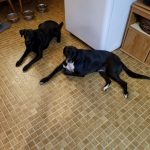 Member
Registered users
Premium User
Single Christian Man. If I were to find a woman to marry again this is what I want to find.
1. Of course mutual physical attraction goes with out saying.
2. She must be deeply spiritual, having a close relationship with Jesus Christ.
3. She must love to laugh and have fun with a sense of adventure.
4. She must love dogs because I do and I have 2, Bentley and Cooper.
Forum Timezone:
America/New_York
Currently Online Users: 129
Currently Online: 2011spidy, 2cents, 4cash, 7-FA, Airborne82, Alison, amethyst104, awesomeap, Badmus, Baller, Bamacopter, Barney, bbh15, Bclark478, BigSmile, Blessed17, Brad, breeznit, browning1990, bull, C.J., CLARE, calledforHim, cashflow, Ccd316, [email protected], cometoshiloh, cs1201, CubCadet, DON961, davesxs, david, Deepwoodz, dena, discipleofchrist001, DragonSlayer, drt, Eagle1968, edavidjones, EddieP2.0, Enterprise, Eric, evenstar, FCH1962, FaithRider, Freedom, froghat, fsujoe76, GardenGirl, Gem, Gf1200, Gman, Godlover, grannybetty, Gutters2, Gwhite, Habsm, Hammy14, Hans, hawaiijerry, HeidiS, HisKingdomFirst, Houstongirl, IGGY, ISX-Boom, JBCrane, jadeseamons, Jamie-O, Janice, Jeff12, JennyOhio, jfinny, jfox45, Jim, Joel1960, Joyng1432, kathy45, Kettle7, Kristen, kwkdinar, LUNA, lakecity, landoffuzz, late2dinar, Lbounds, Lee, logs, loyd, Marlo68, Mcdan, michele1964, mike4339, Mimi40k, moonrock, NANACAROL, Natoms, necco28, Paul54, philippe, pocajun, railroad07, Restored59, rich4hyip, Richard, Rick1972, SAMSON, scollie, Seedmanp, Servin29, Seven, Smn, snowbelter, Sodman, Sonia, speedracer, starlite, startnow58, steve213643a, Sunrise, Sunshine.too, TheWatsons, Theresa63, Tupelodawg1, Vrid1, wef, Wisdombound, wmb1970, Worm4816, Young_SC
Members Birthdays

Today
Soyloassy, Teelocionia, Flarljaf, Tidaemidway, Tilialorrum, Investejift, Jacquelchaez, Angelinkaleight, Ionichehosync, Cemozoobamp, Pierrampejese, Priornork, Qpdagysvne, EnartCixEpina, Flieddeno, DitLatNicedia, Nusaunera, PodabolYV, GoKblockKeero, Dydayarenia, MartaKims, Hapyphegree, Assumsmeary, Zensacletle
Member Stats:
Guest Posters: 6
Members: 37474
Moderators: 2
Admins: 18
Forum Stats:
Groups: 2
Forums: 16
Topics: 2837
Posts: 561897
Birthdays

Congratulations to:
Soyloassy, Teelocionia, Flarljaf, Tidaemidway, Tilialorrum, Investejift, Jacquelchaez, Angelinkaleight, Ionichehosync, Cemozoobamp, Pierrampejese, Priornork, Qpdagysvne, EnartCixEpina, Flieddeno, DitLatNicedia, Nusaunera, PodabolYV, GoKblockKeero, Dydayarenia, MartaKims, Hapyphegree, Assumsmeary, Zensacletle